Substantial growth and courage to take risks
Like many other companies, TCT too started small, very small as matter of fact: In 1993, Zoran Tesic founded the trading company TCT Industriehandels GmbH with focus on trade with used industrial equipment. He worked out of a small office in the basement of his house with help of a part-time secretary. With hard work he formed the foundation for the present TCT Tesic GmbH.
The company grew constantly and only 4 years later, Zoran built an industrial hall on a 3.000 m² plot of land in the industrial area of Kalthof in Iserlohn. In the meantime the form of enterprise was changed to TCT Tesic GmbH. At that time TCT employed 8 members of staff.
With his team, Zoran expanded the company activities in the coming years. A second hall was built as warehouse. Later an additional warehouse was rented in industrial town of Gelsenkirchen.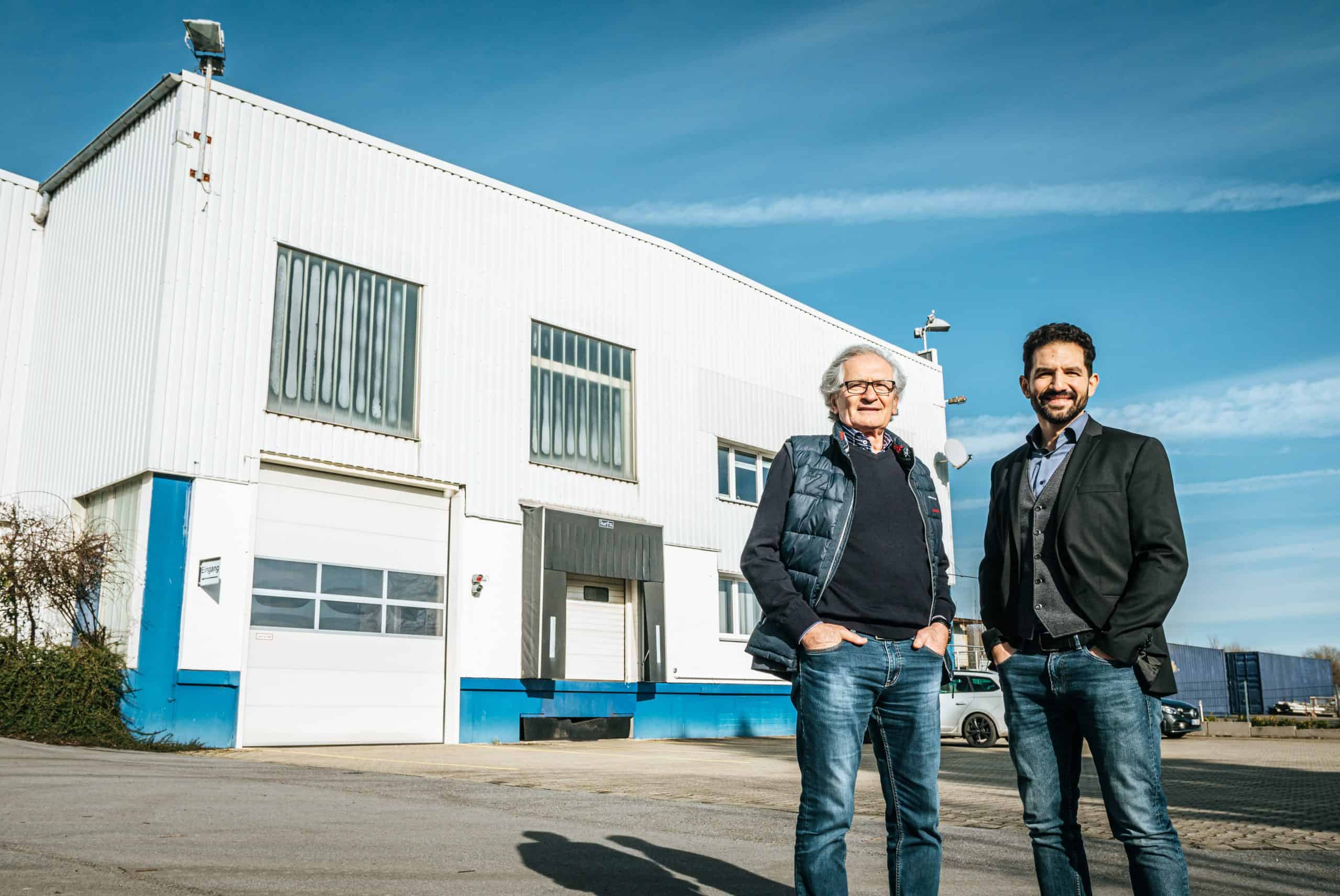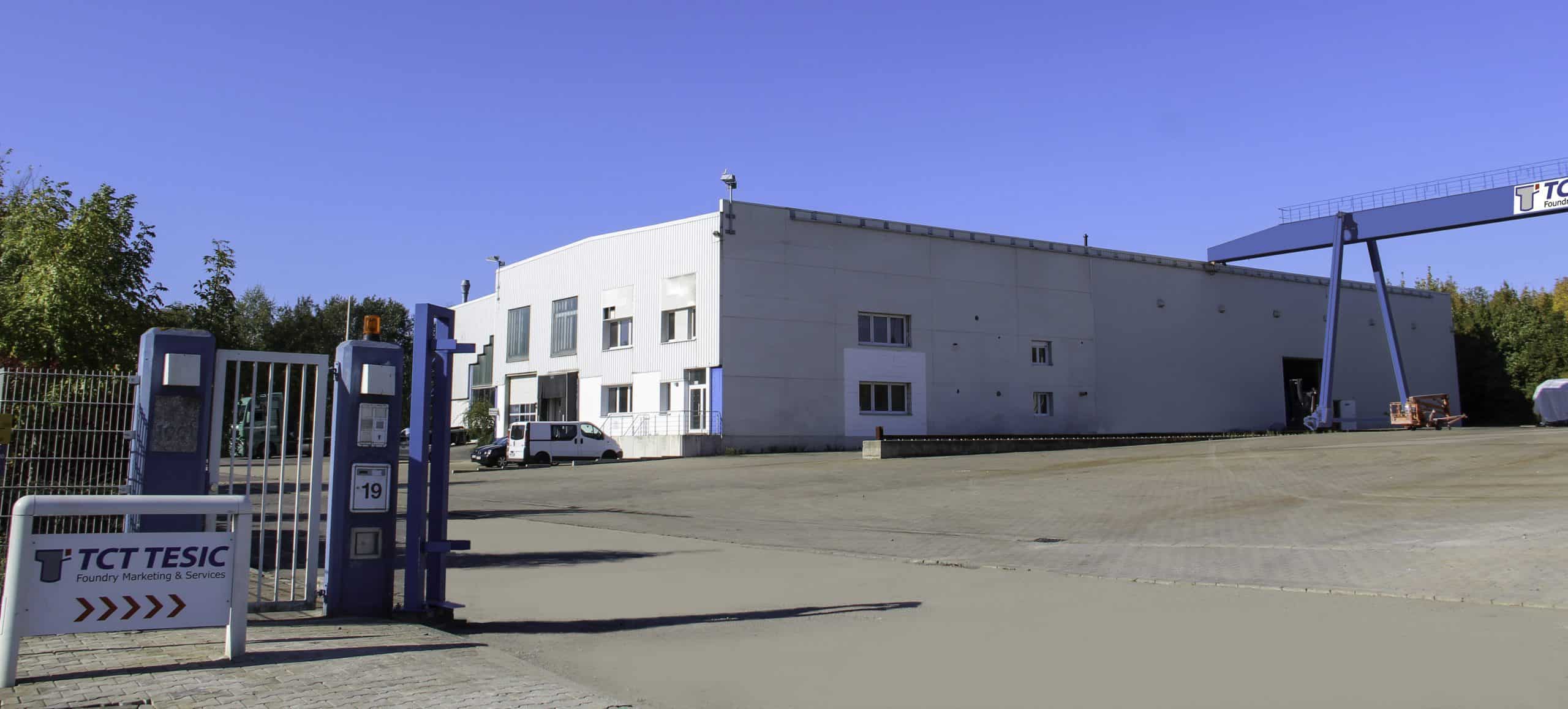 Large and complex foundry projects
2005 marks a special date in the history of TCT. In this year, TCT started first time with large and complex foundry projects and so paving the path to present core activity of the company. One year later, a subsidiary was formed in Kikinda, Serbia.
The severe economic recession in 2009 shook the company like many others, but with full support of its staff and courage for risks, TCT came out of this difficult phase stronger than ever.
TCT is strongly committed to the future. Since 2012 TCT has moved to the present location with large industrial halls and ample space in order to cater to future tasks such as repairs and modernization of XXL foundry equipment. Since 2011, Zoran's son Darko Tesic joined the company and and the former service manager Tobias Manka, has been included in the management since 1st of January 2020.
With effect from December 31, 2020, the "Service" division was sold to extrutec GmbH. The newly founded TCT Induktionstechnik GmbH has taken over all previous services in the area of overhaul, maintenance and service of induction furnaces as well as the production and maintenance of block heating systems for the aluminum industry. The location and the known contact persons and employees remain unchanged. Tobias Manka is the managing director of TCT Induktionsofentechnik GmbH. (link to the news)
Since 01.01.21. the focus of the previous TCT Tesic GmbH continues to be on the international trade in used foundry systems as well as on the dismantling and assembly or relocation of such. A new addition is the commercial agency department, which takes care of the marketing of products and services in the foundry industry on behalf of companies from other industries. On 26.01.21 Darko Tesic has officially been appointed as the company's new managing director while Zoran Tesic will continue to work in the company as a senior consultant.
The succession is regulated and the Company's future is assured.
1993 – Zoran Tesic establishes TCT Industriehandels GmbH (trading with used industrial equipment)
1995 – Change of enterprise form to TCT Tesic GmbH
1997 – Construction of first industrial hall with offices on a 3.000 m² plot of land in Iserlohn, Kalthof – Starting with new field "Foundry Services" for repairs of induction furnaces
1999 – Construction of second industrial hall as warehouse
2005 – Kick start large projects to become largest of its kind in Europe: sales, dismantling, shipping, refurbishment and reassembly of large moulding lines including sand plant
2006 – Leasing large industrial hall in Gelsenkirchen for additional space as warehouse – Formation of TCT Tesic in Kikinda, Serbia
2009 – TCT survives the economic recession with almost complete staff
2011 – Darko Tesic joins the company
2012 – TCT shifts its works to new premises in Kalthofer Feld 19, with 3000m² built area with 3 modern overhead cranes and over 14.000 m² area with a 50 meter gantry crane
2013 – Staring upgrade and repair work in new factory – Acquires share in Ogicom doo, a Slovenian company for assembly & dismantling services – Enabling TCT to offer relocation of foundry plants
2020 – Tobias Manka has been promoted into the management – Sale of the service area to extrutec GmbH
2021 – Darko Tesic is appointed as the new managing director. New commercial agency division is introduced
meet customer demands and wishes
For our customers we make it happen!
We pull all the strings to meet customer demands and wishes. If the customer changes the certain parameters at short notice, no problem, we put it to practice.
Due to the short decision making path and size of company, we can act swiftly to meet customers demand. At the same time we bring in our vast experience and deep specialized knowledge. This helps us to execute the complex projects smoothly and successfully.
We expect same high quality of services from our partners. In spite of all professionalism and strive for perfection, we do not forget the human aspects and always see the human being behind every employee. This applies for all our team members, our service partners and our customers. Values like honesty, courtesy and fairness play a big role for us. We live these virtues and they are reflected in our close relationships with our customers.
Below you will find a selection of our customers that we are proud to serve.
Year
Country
Description
2022
Germany
Grünsandformanlage HWS HSP2 mit Demontage
2022
Spain
Amin Begasungsgerät Lüber
2022
Turkey
Disamatic kastenlose Formanlage 2013 MK 5 (6 trucks)
2022
Hungary
Nedermann Filteranlage 70.000 Bm³/h inkl. Demontage Verpackung, Verladung
2022
India
Henschel Manipulator AMX 60 T-2
2022
India
2 St.- Henschel Manipulatoren AMX 40
2022
Spanien
Durchlaufstrahlanlage CT-4
2021
Turkey
Inductotherm MF- Induction Melting Plant 2 x 10 t
2021
Germany
Entstaubungsanlage 10.000 m³/h
2021
Turkey
MF-Induktionsofen 2×4 t Inductotherm
2021
Turkey
Disamatic kastenlose Formanlage 2013 MK3
2021
Turkey
Sand Mischer 40 t/h F/DISA
2021
Turkey
Disamatic kastenlose Formanlage DISA 2013 MK4 -A
2021
Iran
Thyssen Henschel Manipulator Andromat AM250 T3
2021
Germany
Nedermann Filteranlage 195.000 Bm³/h
2020
Germany
Auflösung Gatter
2020
Germany
Auflösung Korundal
2020
Germany
Manipulator Clansman
2020
Germany
Otto Junker – MF-Induktionsofenanlage 80 kg
2020
Germany
Inductotherm MF-Tiegelofen 1.500 kg + 200 kg 1.000 kW
2020
France
Disamatic Vertical Flaskless Moulding Line 2110 MK1
2020
Germany
Thyssen Henschel casting manipulator AMX 20
2020
Germany
Manufacturing and delivery : Tesic High Suction Power Hood
2019
South Africa
Assembly of a Incuctotherm MF-Induction Furnace Plant 15t
2019
Finnland
Sale, Modification and overhaul of an ASEA / ABB Inductor 500kW
2019
India
Sale, overhaul and test run of 2x Clansmann Manipulators
2019
Netherlands
Sale and overhaul of Junker MF-Induction furnace plant 2 x 250kg
2019
Iran
Sale of a 63 I Core Shooter incl. Overhaul and test run
2019
Switzerland / India
Sale, dismantle, loading and export of a complete HWS HSP 1-D Moulding Line
2018
UK
Sale of 2x Koyama Barinder 500 fettling cells
2018
Russia
Overhau and Test run of a DISA 2013 MK 5 B Moulding Line
2018
Czech Republic
Sale of one Striko aluminium melting furnace 2 to
2018
Poland
Sale of a Hensel cont. Mixer 50 t/h
2018
Romania
Sale of a ZPF 2,5 tons melting furnace
2018
Germany
Refurbish works on a Webac sand mixer
2018
Taiwan / India
Sale of a DISA 2070 A Moulding line
2018
Slovenia
Sale and complete refurbish of an Eirich Sand mixer
2018
Netherlands
Refurbish works on a Simpson Sand cooler
2018
Poland
Sale of a Hensel sand mixer
2018
Austria
Dismantle of a complete Iron foundry
2018
Germany
Sale of a Luber amine scrubber unit and a Thermoconcept Electric crucible melting furnace
2018
Poland
Sale of a Woehr pouring machine
2018
Germany
Sale of an IMF gravity die casting machine
2017
Germany
Sale, refurbish and assembly of a 10 l. Laempe core shooter
2017
England
Sale of two Abramatic grinding machines
2017
Austria
Sale, transport and assembly of a DISA 2013 MK 3 moulding line
2017
FR / India
Sale, dismantle and export of a Disa 230 C moulding line
2017
UK / India
Sale, dismantle and export of a DISA 230 B moulding plant, Eirich sand preparation plant and two Cime pouring furnaces
2017
Turkey
Sale and export of a Reichman grinding machine
2017
Bosnia
Sale, dismantle and export of 2x 6 to. Junker induction furnace plants
2017
Brazil
Sale of Henschel Andromat Manipulator
2017
South Africa
Sale of a 15t Inductotherm Induction furnace plant
2017
Russia
Sale and Refurbish of a 2 x 2t Inductotherm induction furnace plant
2017
Italy
Dismantling and loading of a Simpson sand regeneration plant
2017
Serbia
Sale of a 750kg Inductotherm induction furnace
2017
Iran
Sale of two DISA Serf Decoring machines as well as two Aluminium melting furnaces
2017
Germany
Dismantling and loading of a pouring furnace
2017
Germany
Assembly and cold start of a crack test machine
2017
Germany
Refurbish and assembly of a Inductotherm induction furnace plant
2017
France
Dismantling and loading of an induction furnace incl. charging trolleys
2017
Russia
Refurbish of a Laempe core shooter
2017
Germany
Relocation of Shot blast machine within Germany
2016
France
Sale of a GF Wet tensile strength testing device
2016
Serbia
Sale of a AREA filter plant
2016
Dubai / Morocco
Sale of a IMF T36/30-S Moulding line
2016
Kasachstan
Sale and refurbish of a 4,5t Junker induction furnace
2016
Egypt
Assembling of a CT-6 Shot blaster
2016
Germany / Mexico
Refurbish and export of a DISA 240-C Moulding Line and 2 x ABP Induction furnaces
2016
France
Dismantling and loading of a complete SAVELLI Moulding Line and 2 x KUHN Bicor Core Shooters
2016
Iran
Sale and refurbish of 2 x Inductotherm VIP 2500 CT Powertrak induction furnaces
2016
Germany
Sale of DISA and GF Shotblaster
2016
Germany
Assembling of a CT-6 Shot blaster
2016
Netherlands / France to Serbia
Sale, dismantling and export of three filter plants
2016
Turkey
Sale, dismantling and loading of a complete HWS EFA SD-5 Moulding Line
2015 / 2016
Germany
Dismantling, refurbishing and assembling of 2 x 8t ABP Induction furnaces incl. charing trolleys
2015
Serbia
Sale of a FAT Filterplant and Webac Sand mixer
2015
China
Sale, dismnantling, refrurbish and export of a complete HWS HSP 2-D Moulding Line
2015
Egypt
Sale of an HWS HSP 3-D Moulding Line
2015
Germany
Sale and dismantling of a complete EIRICH Sand plant
2015
Germany
Relocation of Hottinger CB 32 HVA/S Core Shooter
2015
Germany
Complete refurbish and assembling of a DISA 250-C Moulding Line
2015
USA
Dismantling, packing and loading of a complete DISA 250-C Moulding Line
2015
Taiwan
Sale and refurbish of a DISA SAM 6-70 Sand mixers
2015
Germany
Dismantling of a complete EIRICH Vacuum Sand Plant
2015
Czech Republic / Bosnia
Relocation of 3 Metal press machines
2015
Australien
Dismantling, packing and loading of a DISA 240 Moulding line, Cooling drum, didion drum, Sand plant and 2 x ABP Ind. Furnaces
2014
Czech Republic
Sale, dismantling, packing and loading of a complete DISA SAM 6/50 Sand plant
2014
USA
Dismantling, packing and loading of a complete DISA 2070-B Moulding Line
2014
Turkey
Sale, refurbish, export and assembling of a DISA 2130-B Moulding line
2014
Sweden
Dismantling, packing and loading of a complete HWS moulding line, EIRICH sand plant, Core shop, CT-6 Shot blast machine and 2 x Junker Ind. Furnaces
2014
Belgium
Sale of Cooling Drum
2014
Brazil
Complete DISA 2013 LP Moulding Line, Striko Pouring Furnace and DISA Hanger Type Shot Blast Machine incl. dismantling, loading and reassembling
2014
Germany
Electrical Assembling of a new Loramendi Moulding Line
2014
Germany
Channel Type Pouring Furnace 6,5t incl. complete mech. refurbishing, new crucible and new furnace cover
2014
Spain
DISA CT-4 Continuous Type Shot Blast Plant incl. dismantling, loading, partly reburbishing and reassembling
2014
Pakistan
Complete automatic HWS EFA SD-5 Moulding Line and BMD 60 t/h Sand Preparation Plant incl. dismantling and loading
2013
Poland
DISA 2070 Moulding Line, LÜHR Filterplant and BBC OC 80 Pouring Furnace with loading  WEBAC Sand-prepartaion plant with dismantling and loading
2013
Germany
Complete HWS HSP-2D Moulding line with cleaning and loading
2013
Brazil / Germany
1. ASEA/ABB 50t Warmholding Furnace with dismantling and loading to Brazil 2. ASEA/ABB 50tWarmholding Furnace with dismantling, loading and assembling/start-up 3. ASEA/ABB 90t Warmholding Furnace with dismantling, loading and storage
2013
Brazil
DISA CT-3 Shotblastmachine with dismantling, cleaning and loading
2013
Brazil
Thyssen Henschel Manipulator
2012
USA / China
2 x DISA Moulding Lines and 1 x CT-3 Shotblastmachine assembling in a new foundry
2012
South Korea
GF-Moulding line and Sand Preparation with dismantling and loading in approx. 26 Containers
2012
Pakistan
Axmann Furansand Moulding Line with dismantling and loading
2012
India
Hottinger 40l Coreshooter
2012
Ethiopia
Induction Furnace, Jointsqueezemachine and Furansand Mixer
2012
Russia
Inductotherm Induction Furnace
2012
Tschech. Repbulik / Bosnia
Dislocation of a complete Foundry Flaskless Loramendi Moulding line Sandplant 4 x 4t Junker MF-Crucible-Furnaces various Dedusting plants 4 x Shotblasters
2011
Germany
Dislocation of core-shop and complete gravity diecasting-production Dismantling and assembling of 2 x Laempe Core shooters Assembling of an existing Core Shooter, Sandpreparation and a complete Aminwasher
2011
South Korea
Complete HWS Moulding line and Webac-Sandplant with dismantling and loading
2011
Germany
Complete HWS HSP-2D Moulding line dismantling, packing and loading
2011
Germany
Complete Disamatic Moulding line 2012-MK5, Dedusting plant 45.000 m²/h with dismantling, loading and warehousing
2011
Italy / Czech Republic
Complete Sandplant 180 t/h,  4 x 10t MF-Crucible-Furnace plant, Dedusting plant 140.000 m²/h with dismantling, cleaning and loading
2011
Italy / Brazil
Complete DISA 130B Moulding line with dismantling and cleaning/packing, loading and assembling-supervision/Set-up
2011
Italy / China
2 x Disa 230x Moulding lines, Pouring Furnaces, DISA Continious Shotblaster and Dedusting plants dismantling, cleaning, partwise refurbishing and loading into 40 containers
2010
Brazil
Complete Kuenkel-Wagner Moulding line with dismantling and loading in approx. 60 containers
2010
India
Complete HWS Moulding line + Eirich Sandplant with dismantling and loading
2010
Turkey
Complete Disamatic Moulding line Type 2070c, Eirich Sandpreparation 120 t/h and Automatic Grinding Machine Type Reichmann with dismantling, packing/loading and assembling-supervision/Set-up
2010
Serbia
Wheelabrator Shotblastmachine with dismantling, assembling and Set-up
2010
Turkey
Complete HWS Automatic Moulding line, Webac Sand Plant, Shot Blast machine, Dry filter plant, Compressors etc.
2010
India
Hottinger Cold-Box Core shooter 40l incl. LÜBER Gasing device
2010
Germany
KT Amine Gas Scrubber Plant
2010
Turkey
Laempe Cold Box Core shooter 12l
2010
Brazil
Inductotherm MF Induction Furnace Plant 8t
2010
Chile
GF Various Sand Lab Equipment
2010
Thailand
Eirich Green Sand Mixer
our success depends on people
Our success depends on people who work with and for us, people like our own employees as well as people who work for our partners and associates. They are highly motivated and with their high degree of know-how engaged in projects all around the world.
At our headquarter in Iserlohn, our team is always engaged for our customers. Apart from high qualification they are highly motivated and work with great responsibility to achieve high quality in every area they work.
We provide for further education and qualification to our workers so they can develop new skills. The working atmosphere is frank, open, transparent and friendly. So is the management. Many of our employees feel very much attached to the company and feel good staying with us for many years. Obviously they get benefits of the company's success.